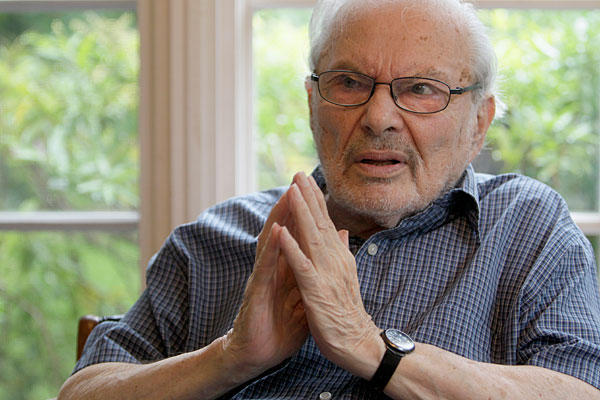 A few months back I decided to write letters to the people who have been inspirations on my life so far. You know, the ones who are still alive. One of those letters was to Maurice Sendak, who died this week. It saddens me that I never got to meet the man who made me so excited about words and creativity and storytelling. So, without ever getting to meet him, here is one last letter to an artist who means so much to me.
Maurice,
Thank you, thank you, thank you, thank you, thank you for what you have given me and so many others through your art. I can't read
"Where the Wild Things Are"
without wanting to immediately sharpen my colored pencils and unclog my glitter glue pens and get to work.
Your sense of humor in writing and in real life is such an inspiration to me. I saw this quote from you online just recently about what Max from Where the Wild Things Are is doing as an adult, "Well, he's in therapy forever. He has to wear a straitjacket when he's with his therapist." You are so perfect and honest and so witty at the same time.
But that's not my favorite line of yours. You always said, "I refuse to lie to children." You were part of the great crop of imagineers that treated children like they knew what was going on. You and Jim Henson and Frank Oz and so many others. On a recent episode of This American Life, Ira Glass read aloud from a children's book from the 1970's titled
"Nobody's Family is Ever Going to Change."
Why can no one write books like that for children anymore? And what are we going to do now that you've gone?
The last thing I want to thank you for saying is this, "I'm totally crazy, I know that. I don't say that to be a smartass, but I know that that's the very essence of what makes my work good. And I know my work is good. Not everybody likes it, that's fine. I don't do it for everybody. Or anybody. I do it because I can't not do it."
I love you, Maurice, for saying that. A friend told me awhile back that R. Crumb drew most of his comics for the sole benefit of his sister. And while most of what I draw is also for my sister's benefit, the real reason is I do these things because I can't not so them. I can't draw or photograph. I can't make music or write as well as I'd like. But I do it - make comics and drawings, write this blog - because I can't not do it. I can tell people what they truly mean to me much easier through a mix or a drawing, even if it's just 12 tracks of Salt n' Peppa or I drew something on the back of a Dunken Donuts bag.
So, thanks for the quote Maurice. You make me feel normal. Or at least, you make it normal not to be normal. And everyone else can go to hell.
Well, I'm off to glitter some McDonald's french fries containers, or maybe whiskey label. Not sure, but I'll keep you informed. Rest assured, it will wind up on this blog and I hope you see it. But I don't care if you like it or not. I'll keep doing it anyway, because I have to.
All the love in the world from your wild thing,
Molly